Hello friends. Happy Tuesday.
I hope your week is off to a wonderful start.
I have a bit of information I'd like to share with you all. During the month of October you have a chance to upcycle and win some awesome prizes. Marylin of
The ArtsyGirl Connection
has started an "Upcycling" contest that will run through the end of this month. If you don't already know, upcycling is taking something old, and giving it a new life! So whether you take an old sweater and make a purse, or you take last nights baked chicken and make fajitas, share your ideas here. The rules are simple. Check it out:
RULES
*You MUST use something RECYCLED
*Link to your actual post not

blog

homepage
*YES - Upcycled "food" is acceptable
*Please display button in your post for link back
*Don't forget to COLLECT VOTES "Likes"
*Spread the word..Grab a button*
(You can grab the code and display the blog hop as well if you would like)
Visit &

share

in everyones fun items

linked

of course :))
PRIZES: A $30.00 Michael's Gift Card. (From: M) and
a Do it Yourself craft kit. (From:Me)
The winner will be announced November 1st!
Good luck and happy crafting!
Grab the button and share! ;-)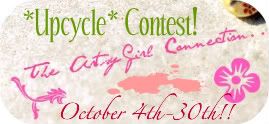 JOIN, YOU KNOW YOU WANT TO!
That's my 2 cents!